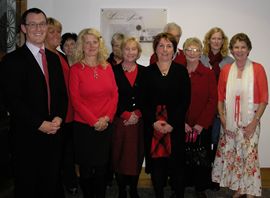 Some time ago the Sixth form forum at Methody voted to make Crohns and Colitis UK (Formerly, National Association for Crohns and Colitis NACC) our main charity of the year. After some initial confusion with contacts I finally managed to get two speakers from the local Northern Ireland group in to speak to the sixth form.
Pictured second from the right in the front row is Peri Gillespie and first on the right of the front row is Audry Derby. They are Chairperson and Vice-Chairperson respectively and they were both kind enough to come to speak to our assembly group. Crohns and Colitis, or Inflammatory Bowel Disease (IBD) is a condition that affects thousands of people in the UK and Northern Ireland, but it was a cause that few people in the forum had heard about and even fewer in the year group. This was probably something that contributed to the choice of Crohns and Colitis as the group to be supported, the forum felt it would not only raise a large amount of money for a very worthwhile cause but also raise awareness within the year group about the condition. We certainly seem to have made progress on the latter as I have heard quite a few people discussing it since the assembly and I have also spoken to a few pupils who have the condition. Everyone, including myself, was very impressed with what Peri and Audry had to say and in turn they were delighted to hear that their talk was so effective.
Not only has progress be made on raising awareness, but from what I've heard £1,300 has already been raised from the Halloween Fling. Over the next few weeks we'll be putting up more information on Crohns and Colitis around the Worrall Centre and we'll also be holding Methody's Got Talent.
That Wednesday afternoon I had a debate, along with Charlotte, against Royal School Dungannon. Charlotte and myself were proposing the motion that "This house believes the Big Society is a sham." Charlotte had just finished a french debate, which she also won, but it had left her mind in a quite mixed lingual state. However she didn't let it get in the way and managed to perform the difficult feat of avoiding switching language during debate! On the bright side, this motion did not require any devils advocacy from me! Unfortunately as per normal there was only an audience of 3 students to see our victory and they were all from Dungannon, but I can recycle a few parts of my debate here anyway. Dungannon were excellent opponents, this is the first year their school has taken part in a debating competition and they were clearly a cosy and friendly team. They made some excellent points for what I will now say in retrospect, I would consider the harder case to argue. Annie from the opposition was kind enough to e-mail me some photographs she had taken, real live action stills of Charlotte and myself taking our various rants against David Cameron.
"Mr Chairperson, my fellow speakers and members of the house. We're here to answer one of the great unanswered questions. The question that most of the media are too embarrassed to ask and the question our prime minister is too scared to answer. It's our very own 2010 'Emperors New Clothes' question. What the dickens is The Big Society? The problem is that just like the emperor's new clothes, the closer we look at the big society, the less there is to see!

Many governments will follow an ideology. Charlotte and I will demonstrate the 'Big Society' lacks the ambition and the coherency of any ideology such as socialism, capitalism or communism. Other pragmatic governments will have a plan for governance, for example thatcher's privitisation or the coalition's deficit reduction plan, however even Cabinet Minister Francis Maude admits that the big society is "not a plan." Even without ideology or a plan, most governments at least formulate clear policies such as the national minimum wage or freedom of information. By tackling the flawed strands and methods of the Big Society, Charlotte and I will prove that The Big Society is neither an ideology, plan nor policy, but it is instead a sham.

The Big Society has been met with universal derision, and that's just from the Tories! One Tory MP described it as "complete crap." David Davis defines the Big Society thus, "the corollary of the Big Society is the smaller state. If you talk about the small state, people think that you are Attila the Hun. If you talk about the big society they think that you are Mother Theresa." Nevermind a wolf in sheeps clothing, the big society is Attila the Hun in a nun's Habit. Let's ask Cameron what his idea really is, "You can call it liberalism. You can call it empowerment. You can call it freedom. You can call it responsibility…" How vague can it get? Perhaps Martin Luther could call it the reformation, In fact I rather suspect had Tony Blair been there he would have been told to call it the 'Third Way' that we've all now forgotten about. The point is, David Cameron's description of the big society is like the descriptions of homeopathic treatments. They claim to cure at least 40 different unrelated conditions but do nothing for any of them and just like these treatments, just like emperors new clothes, the Big Society is a sham."
I went on to make various points about David Cameron's different strands. First of all, the call for "social action" in the form of volunteering and charities.
"This call for social action is unrealistic, it conceals real cuts and it is not the best way to deliver services. It's unrealistic because the public sector makes up only 2.3% of the British workforce, they couldn't possibly replace our police, education, and health workers nevermind the welfare state! As for increasing the number of people who volunteer, Britain already has the highest amount of volunteering in Europe – according to Polly Toynbee in the Guardian, "so much for broken Britain."  To expect people to do unpaid labour in good economic times was unfair, but to expect them to do it in hard economic times such as these was just cruel."
In last Friday's Have I Got News For You Paul Merton made an amusing joke about this. It went along the lines that the government was introducing voluntary gardening for the local council as a requirement for those who had been on benefits without work for more than six weeks or so. He pointed out the councils could then make their gardeners redundant as the job could be done for free. These redundant gardeners could then go on benefits, then after six weeks they'll be forced to go and garden voluntarily.
"The call for social action conceals real cuts. During the Labour government the voluntary sector more than doubled in size. However about 70% of this growth was state funded. If David Cameron is going to cut the state, then he is going to cut charities. He will effectively be cutting on the the strands of his big society. For example, We have seen £11mil centralised cuts from the Office for Civil Society, however we have also seen local councils cutting these services such as Croydon council cutting their contracts with charities by 66% and Greenwich by 50%. The advantage to them is that instead of making their own workforce redundant and facing redundancy costs, they can instead push this burden onto charities. The New Philanthropy Capital thinktank estimate that Big Society will result in cuts between £3.2bn and £5.1bn and they say this is "too big a gap for trusts and foundations or funding from the public and philanthropists to fill."

This is not the best way to deliver services. For a start, it abandons the idea of collective action and sharing responsibility on a state level. For decades we have had a tried and tested response to quality of life issues. Education, Health and public safety are all funded through tax and spend policy. None of these is perfect, but it has led to a sustained increase in quality of life. How much bigger can society get than an understanding of distribution of wealth through public service provision? We only need to listen to Cameron reminisce about his mother flower arranging for the local church to realise that he is not looking forward to a bright new future, but looking back upon the victorian era of the past through a rosy tinted monacle. But let's just look at the nature of public services in the victorian era – they were a threadbare minimum, frankly Britain can do better than that."
Charlotte then made some great points about the community empowerment strand. The most obvious being that attempting to legislate to create community makes no sense. She also looked at how Health, Education and Police services are simply better run by professionals. This was a point I had raised with the opposition speaker in a point of information, the logic of the big society seems to be that if people want to complain about public services then they should run them themselves. This is essentially the most blatant attempt at political buckpassing of our generation, when people complain about badly run public services it us up to those providing them and the government to improve upon them and give the public a better deal, it is NOT up to the public. Besides by paying taxes the public already contribute their fair share.
"Cameron more or less admits that this is a strand of little consequence. He resorts to using meaningless phrases such as "creating communities with oomph" – just the sort of repetitive guff that he' has bulked the rest of his speeches out with"
I'll try and write more briefly about the rest of our points, in fact I'll do them in bullet points just minus the bullets. The low take up of 'free schools' by parents shows a lack of interest in empowering communities. The types of people who will be empowered are those with lots of spare time, namely the Greying Leisured Affluent Middle classes (GLAMs) Whereas those unable to take advantage of this empowerment will be single parents, those working longer hours or those on lower incomes. If services are to be provided and managed by GLAMs isn't it likely they will end up with a bias towards them? The rest of the public will sit back and think, "Run Society? the school run is hard enough!" People can already become involved in many ways, becoming a local councillor, setting up local interest groups, volunteering for a school board of governors.
Our final strand for discussion, which I will also just write about in 'bulletless bullet point' style, was the Public Service reform strand. Our main point here is that David Cameron and the government do not really believe in what the big society has to say about this. They pledged not to reform the NHS in the election and they increased university fees without bothering to reform universities, doesn't look like a 'big society' commitment to reform. Where they have reformed, such as the housing benefit system, it has been branded a failure at best and 'social cleansing kosovo style' by Boris Johnson. The Conservatives have further undermined the big society plan by hiring Phillip Green of Topshop to advise them on efficiency. Whilst the message of Big Society is to decentralise, the message of Topshop is to centralise and take advantage of the economies of scale. This finally leads us to the false decentralisation of this strand. First of all, it's a top-down solution, which seems to contradict the message of big society. If David Cameron was really committed to decentralisation he would decentralise a real power, the power to tax.
I was flattered and privileged this week to be asked to help interview Dr Breen from QUB on the topic of terrorism, it was a really fascinating interview and I was especially pleased to have been asked because I had enjoyed listening to the previous weeks' episode. The episode I was involved with is not yet online but you can listen to the previous episodes at http://soundcloud.com/begging-the-question Unfortunately Terrorism and the ethics of war isn't actually a topic I have done much reading into, as at the moment I seem to be more involved with more basic UK level politics and particularly economic issues. But it's definitely an area I will have increasing interest in over the next while.
My final word on all matters debate and politics is just to share this cartoon from the Guardian with you, thanks to Daniel Williams for finding this one.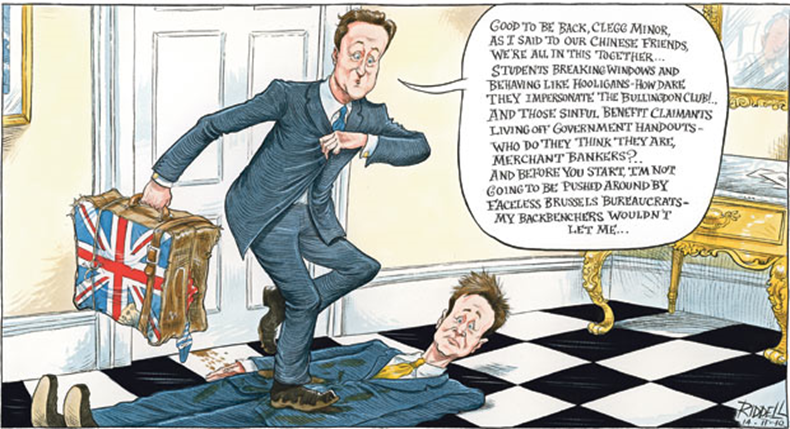 And finally finally a song recommendation. "Here comes the flood" by The Divine Comedy (Neil Hannon). At the moment I'm listening to a lot of his music, but here's just one track. I always laugh at the line, "if the the good lord had intended me to live in LA he would have given me a machine gun." http://tinysong.com/evaL
But well, here I am just another individual.